New Product Launched in Switzerland:
COVID-19 (SARS-Cov-2) Antigen Self-Test Kit
Located in Hefei, DeepBlue Medical is a Chinese high-tech enterprise specialized in R&D, manufacturing, marketing and after-sales service of diagnostic reagents and biological raw materials.
SIMC is its exclusive representative and importer for Switzerland and Liechtenstein.
The first product registered in Switzerland by SIMC – under authorisation by OFSP and SwissMedic – is a nasal self-test kit also certified in EU under CE1434. It is commercialised through drugstores and other health point of sales and supermarkets in Europe.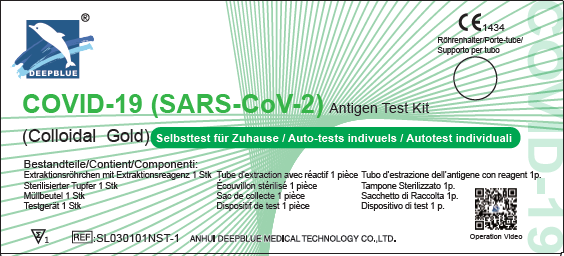 Nasal antigen self-test commercialised by SIMC in Switzerland and Liechtenstein
Please click on the link to watch the demonstration video on YouTube.
This high-quality test kit has very high accuracy to detect asymptomatic patients, as well as the new different variants.
Easy to use, fast and reliable, it allows you to test yourself whether you are vaccinated or not in order to limit the spread of the virus.
SIMC works closely with DeepBlue Medical to develop and commercialise high-quality diagnostics in-vitro (DIV) for private and professionals.
For more information or quotation, please contact
Ms. Anne-Laure HÉRITIER +41 79 561 49 70 / trade@swiss-imc.com